My 8 year old granddaughter Mollie drew a picture of the devil.
She asked her mom, "Can I put this picture on my wall?"
Mom asked, "Why would you want to put a picture of the devil on your bedroom wall?"
Mollie replied, "So I can throw stuff at it."
The Bible says, "Your enemy the devil prowls around like a roaring lion looking for someone to devour.  Resist him, standing firm in the faith…" (I Peter 5:8,9).

The Bible tells us to be dressed for battle, "so that when the day of evil comes, you may be able to stand your ground…"  (Eph. 6:10-18).
This was Mollie's way of fighting the good fight.
Someone wrote…
There was a very cautious man
who never laughed or played.
He never risked, he never tried,
he never sung or prayed.
And when one day he passed away,
his insurance was denied.
For since he never really lived…
they claimed he never died.
He Did It Again…
Well, it happened again…..God winked at me….by way of a license plate.  He has done this several times.  This latest wink happened on Tuesday morning, July 1st, while driving to Norton…just past the Esserville Intersection.  A little silver Chevy passed me, and as I so often do, I looked at the license plate to see if there was a personalized message.  Sometimes you have to be pretty good to figure the message out.  Well, this time it was obvious.  The plate said "Provs 3-5." Proverbs 3:5 is the first part of my favorite Proverb.  It teaches: "Trust in the LORD with all your heart and lean not on your own understanding."  Verse 6 completes the teaching by saying, "in all your ways acknowledge him, and he will make your paths straight."
Now I drive around Wise County all the time, and Tuesday was the first time I saw that car with thattag.  I would have remembered if I had seen it before.  I recall other Godwink Scripture Tags I have seen.   Now, it could be that the owner of that car just moved here, or perhaps he is just visiting here.  Or maybe he has been here for years and for whatever reasons I have never seen him.  Whatever the situation, I saw him Tuesday.
Sometimes you get things on your mind that can cause anxiety, things you just can't figure out, and even if you can, there is little, in anything, you can actually do about them. There are things going on right now in the life of my family, in the life of my Church Family, and in the lives of a few dear friends that have been troubling me. So, when I saw that little silver Chevy pass me Tuesday morning with Provs 3-5 on its plate, I took it as a wink from God, a gentle, serendipitous reminder of a truth I so often forget.
We need God,
we God's Word,
we need the Church to encourage us in the Faith,
and sometimes we need a little silver Chevy to drive by at just the right time….with just the right tag.
Something to think about….
Thanks to my sister Lisa for the following…
A little girl wanted to know what the United States looked like. Her Dad tore a map of the USA from a magazine and then cut it into small pieces. He told her to go to her room to see if she could put it together. After some minutes she returned and handed the map correctly fitted and taped together.
The Dad was surprised and asked how she had finished so quickly. She said, "On the other side was a picture of Jesus and when I put him back then our country just came together."
Amen.
Norton Christian Church
1341 Park Ave.
P.O.Box 216
Norton, VA   24273
t. 276-679-5375
f. 276-679-1193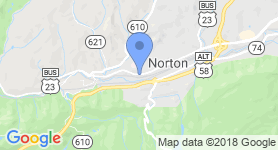 Worship with us this Lord's Day.