Greetings in the name of the Lord Jesus.
By the grace of God and the prayers and patience of His people, I have served with NCC since 1984.  We have seen many changes over the years, including the advent of the internet, in which I have been a reluctant participant (I am Fred Flintstone in George Jetson's world). But I am sure that many souls did not quickly embrace the telephone, radio, TV and other technological devices when they first arrived on the scene.  Now we wonder how we could get along without them.  
Browse our site and please let me know if you have any questions or if we can be of any service to you.  
We invite you to worship with us this Sunday at 8:45 or 11:00.  It could be the BRIGHT SPOT of your week, and you might find NCC  "a place you can call home." 
Grace and peace to us all!
                                          
                                             -Jim

Norton Christian Church
1341 Park Ave.
P.O.Box 216
Norton, VA   24273
t. 276-679-5375
f. 276-679-1193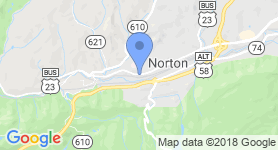 Worship with us this Lord's Day.